Shells and Letters at Tarik's Resting Place
Message to Tarik from Mom
written on one of the marble tiles
Tarik,
I sit here miss you physically…. your lovely smile….your single dimple….your jokes……but most of all your touch (hugs). All you did was change form…. and I will just have to work harder at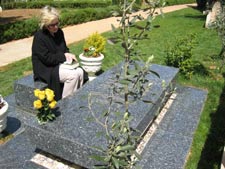 feeling your presence. I know you will always be there with me….. but in a different form. I can feel your love and received all the signs you sent. A rose…. a flickering light…. a butterfly…. and a soft breeze…. that's you!
You told me "Mom I will always take care of you"…. and I know you will. Some of the most powerful things in life are the things we cannot see: air, wind, radio waves, etc. I will love you forever, and you will never be forgotten because you are really not gone. I talk about you with all my friends….(I am so proud). And I continue to sign your name on the cards. You finished your life mission of unconditional love, forgiveness and lived a life of "random acts of kindness".
Just because you are not here physically…it doesn't mean you are not here in spirit. We are merely spirits living temporarily in a physical form. I pray for your happiness wherever you are… And when I drop my earthly cloak, I will be able to join you and be with you soon….
All my love,
Mom
| | | |
| --- | --- | --- |
| Kye | Message written by Ali. | Kye |
Unless you spread your wings
you will never know how high
you can fly........

Love,

Ali
(These messages were written to Tarik on the
marble that was then covered with shells and
placed on his Resting Place. He is surrounded by
loving words and shells from his favorite places.)