Birth Date Anniversary

Balloon Release
Cape Cod, Massachusetts USA
June 28, 2005

On June 28, 2005 Tarik's birthday a group of our friends met on the beach on Cotuit Bay Shores to release balloons filled with letters and poems in Tarik's memory. An Asprey bird joined them and hovered about the group as the balloons were released.

Once again...this is something we intend to do each year.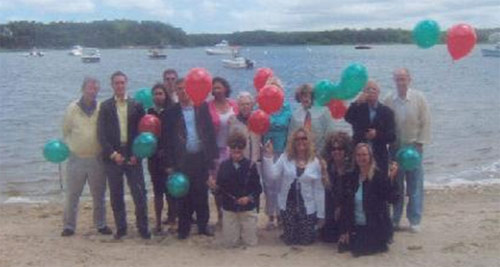 Attending from left to right: Bill, Ali, Brooke, Rob, Abdullah, Lorna, Libby, Phyllis, Ginny (w/ balloon in face), Carol, Lee, Danielle, Nancy, Ibrahim and Dave (Parris is taking the picture)


Balloon Release
Cape Cod, Massachusetts USA
June 28, 2005
Letters from Friends & Family
From: Elisabeth & Dave Murray

Dear Tarik,

One memory remains poignant tonight as I write to you and that is a conversation about art and your interest in architecture, a wish to pursue the study of architecture. Instead you studied economics ….I wonder why? I guess when you began your courses at Rice you no longer felt as strongly about art as a career. I do know you began to think more about medicine and helping people. You with your sensitive heart would have been a good doctor. I hope you as an angel are able to help many of heaven's residents. I watch for the signs that you are actively pursuing….a system of communicating with your beloved earth family.

Love,
Lib & Dave




From: Parris Bauer

Dearest Tarik,

How I wish I had spent more time with you. Our moments together were few…but I will forever remember your beautiful smile, your kindness, and gentle spirit.
I know you are here with us as I have felt your presence. Thank you for all the incredible signs you continue to bring…giving us all hope and peace and knowing you are still here.
We all miss you very much and I know you know this. I feel so blessed to have met you and even though I wish you were still here I know you're soul longed to move forward spiritually.
I love you Tarik and I love your family. I still look forward to seeing you again and I know I will someday.

Love,
Parris



From: Phyllis & Bill Walsh

Dear Tarik,

You will always be with us in spirit and through the physical presence of your parents and your brother.
Let these balloons carry our thoughts and prayers to you.

Love,
Phyllis & Bill



From: Lorna Wallace & Family

Tarik,

Greetings from earth. You have now transcended to an angel in heaven. We miss your soul, but your spirit will always be within our hearts and memories.
Soar onto your new journeys and may peace always be with you.

Love,
Lorna & Family



From: Brooke Wallace

Tarik,

Your smile and its infectious presence will never be forgotten. There are so few people who are genuine, but those who are have an overwhelming spirit. In the time I was able to spend with you I was touched by your warmth. You are a wonderful person and you live eternally through those who you have and continue to touch.

Brooke
Sobre toda la tierra estas volando. Nervda



From: Nancy & Ibrahim Haddad

Dear Tarik,

I hope that you are dancing in the clouds now and looking down and smiling upon us. You will always be in our hearts and thoughts.

With lots of love,
Ibrahim, Emile, Nancy, Ranya, and Laith



From: Rob & Danielle Grady


Dear Tarik,

You remain in our thoughts and prayers. May our words soothe you, and love comfort you and may peace fill your heart.

Fondly,
Rob & Danielle



From: Carol McCracken

(Note: She wrote the Poem "The Morning Star" (See Poems)