Stars – Tarik, the bright morning vigilant star!
The meaning in the Koran of Tarik is "the bright morning vigilant star"; and hence, the star means alot to us and we purchased a star (from the International Star Registry) in Tarik's name:

A star in the heavens has been named after Tarik Toukan. The new star name and telescopic coordinates have been placed in the International Star Registry.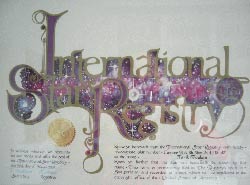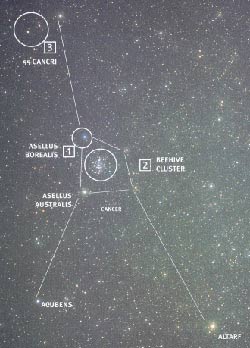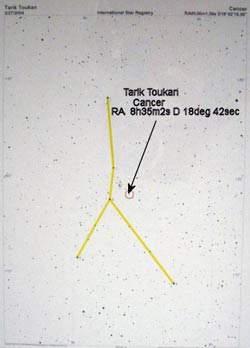 Links
http://www.novareinna.com/constellation/cancerlegend.html

http://www.starshine.com/frankn/astronomy/chart.asp?c=Cancer.gif&n=Cancer

http://www.stargazing.net/david/constel/constel/cancer.html

http://www.astronomyboy.com/constellations/cnc.shtml
The "yellow rose" has a special significance to me. When I lost Tarik a good friend phoned me from the States and told me to pray to St. Therese of Lisieux France ("The Little Flower"). Apparently, if you pray to her about the loved one you lost, you will get an unexpected sign of roses to symbolize they are ok. As Moslems...we do not believe in sending flowers for condolences. But almost daily we received "roses" at our house from both Christians and Moslems. There were so many other amazing signs as well that I got as well...but I somehow felt Tarik was with this lovely little St. Therese who passed away in 1897 at age 23 (same age as Tarik) and she was interested in healing (they called her the Doctor of the church). Tarik was also interested in Alternative Medicine. St. Therese passed away from tuberculosis (which is more or less drowning)....which unfortunately the way Tarik passed away!
Whenever I see white butterflies I think of Tarik. Butterflies go through a transformation of leaving their cocoon behind and turn into beautiful butterflies for a very short period of time. They are free to soar and see the world below from a different perspective. This is how I choose to think of my Tarik... with me always and looking down to protect me and my family and be with us always. I know he's not a butterfly... it's only a symbol for me to realize that life goes on in another dimension....and our loved ones are never really gone.